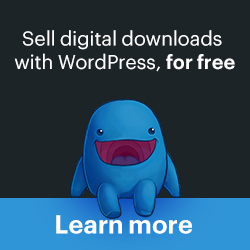 There are some ways of selling digital products online. I may write about the advantages and disadvantages of them in other post. At the moment, let's look at the options we have.
The first option is you can sell your digital products via marketplaces. For example CodeCanyon for WordPress plugins, iStockPhoto if you want to sell royalty-free photos, etc. The second option is selling your plugins and themes by yourself on your own website. In this post, I'll talk about the second option.
If you want to sell your products on your own website, you have to set up everything ground up. For example you have to set up upgrade and support system for your products.
Specifically for WordPress plugins and themes, there are some plugins I bought that don't provide automatic upgrade features, instead users have to download upgraded plugin file and upload the plugin manually on their website. In my opinion, premium products should be better than free products. So why can free plugins and themes hosted on WordPress.org provide automatic upgrade feature while the premium ones can't?
The other problem with selling digital products on your own website is you have to deliver the products manually to the buyers if you don't have delivery system set up on your website. It's okay if you have 1 product with 1 to 10 buyers a day. What if you have 20 products and 50 buyers a day? It's a real pain to deliver the products to each buyer, right?
There are still many more problems if you decide to sell your digital products on your website such as payment setup, membership, licensing, and so on. But luckily there is a software built specifically for these needs.
Is it expensive because it seems the software has complete package of an eCommerce platform?

No, it's free!

Really?!?! What is the software you're talking about? I must get it.

It's Easy Digital Downloads (EDD).
What is Easy Digital Downloads?
Easy Digital Downloads or EDD is a WordPress plugin designed for selling digital products on your own website. EDD has been downloaded more than 400,000 times and is actively being used by more than 40,000 websites. Here are some EDD benefits and features that make it popular:
Easy Digital Downloads benefits:
It can be extended using extension plugins a.k.a. developer friendly.
This is the feature that I like the most. Why? Because of this feature, you can have any functionality that you might want in an eCommerce plugin without having your website bloated with unnecessary features that you might not need. So you could choose what features that your website would have, install the EDD, and if the features that you wanted weren't in the core plugin, you could add it using extension plugins. And EDD has API too!
Quick and easy setup.
Really, it's super easy to set up. No complicated settings, no overkill features, and no unnecessary code. Install the plugin, activate it, set the settings in 10 minutes, add new product that you want to sell, done.
Extensive documentation.
Whether you're developer or not, the docs would certainly help in case you found any trouble. If you didn't find the solution in the docs, someone usually had solved it. Just ask Google.
Great support and actively maintained.
The Easy Digital Downloads plugin is actively maintained by some great developers. If you found a bug or needed support, post it in the support forum. The developers will answer your support ticket and help you solve the problem.
Perfect for all digital products.
Whether you sell WordPress plugins or themes, eBooks, Windows software, or mobile apps, EDD can handle it. Besides that, EDD also has API that can be used for many types of software, not only WordPress plugins and themes.
It's free.
Yeah, some extensions are not free. But with the core EDD plugin which is free, you already can sell digital products to your customers. The free core EDD plugin is enough for most websites. And there are also many free extensions available. So if you're just starting out, the free route is available.
Easy Digital Downloads features:
Because of the first benefit mentioned above, EDD literally has limitless features for an eCommerce plugin such as:
Multiple payment gateways.
PayPal, Stripe, Coinbase, credit cards, and so on. On EDD website, there are more than 50 payment gateways that you can choose from. The free core EDD plugin already has PayPal standard as payment gateway so you  wouldn't need extension to accept payment if you would use PayPal standard.
Comprehensive reporting.
Sales, earnings, and earning prediction are recorded neatly. If you were not satisfied with the reporting, you can always get extension plugins for your needs.
And many other features.
For more features that can be achieved with EDD, you can see the features and extensions page on EDD website.
Conclusion
EDD is perfect solution for selling digital products such as WordPress plugins and themes, PC & Mac software, web templates, photos, and so on. It has benefits and features that are needed for an eCommerce plugin. It may has some limitation though if you want to sell physical products along with digital downloads, but it even has shipping extension too for this purpose.
If you're just starting out, you can use only EDD + free extension which are completely free to accept orders. After generating some profits, you can add features that you need using premium extensions.